January 2017 Newsletter—VIOLET IS BACK!
Happy January!
Great news on the reading front … (add a loud and rumbling drum roll here) …
AVAILABLE NOW! Violet Parker is back in another Deadwood Short called "Tequila & Time."  Sweet molasses cookies! More humorous antics with Violet and Natalie for your reading entertainment.
For the BUY links, go to the Deadwood Series page on my website and scroll down to the bottom for the newest from the Deadwood Shorts.
(In addition to ebook format, this book will be available in print and audio very soon. You can check back on my website for updated links over the next week or two.)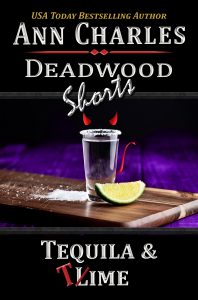 Tequila is a slippery devil …
Tequila is a slivvery depil …
Tequila issa slipperppery debil … depil …
Recipe for drunken laughter:
Take two best friends since childhood;
Add four shots of tequila each;
Sprinkle in a handful of secrets;
Shake.
Given the right amount of Tequila & Time, even the deepest secrets between two friends will rise to the surface.
NOTE: This short story includes a multi-page "Sneak Peek" at the end from the 2nd book in the Dig Site Mystery Series called MAKE NO BONES ABOUT IT.
Grab your copy today for some tequila-inspired laughter!
Volunteer to Be a Deadwood Deputy
I am looking for Deadwood Deputies and wanna-be Deadwood Deputies and thinking-about-it Deadwood Deputies to help me get word out about this new Deadwood Shorts release.
For more information about how to sign up to help me promote Tequila & Time and be eligible for some fun prizes, check out the following post on my Blog page.  http://bit.ly/2iYyzZZDeadwoodDeputyforTequilaAndTime
What's Next?
I'll be participating with 50 fantastic authors in a Booksweeps – mysteries with humor – sweepstakes from Monday, January 30th through Monday, February 6th. The sweepstakes signup page will be available on ON JANUARY 30th. The winner wins all 50 ebooks! Wow, that's a lot of reading fun for the rest of the winter!!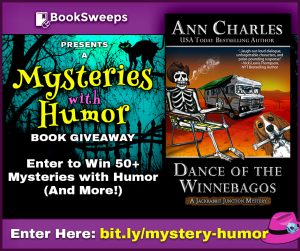 On the writing front …
I'm working on the 2nd book in my Dig Site Series called, MAKE NO BONES ABOUT IT. This series stars Quint Parker, Violet's brother, and takes place on a Maya dig site in Mexico.
Stay tuned for February's newsletter for more information on the release dates and a short description for this upcoming release. There is a sneak peek of this new book at the end of Tequila & Time as a bonus!
After I finish this 2nd Dig Site book, I will write another short story and then I will start in on Deadwood #8.
Also, I'm trying some new social media outlets and adventures this year. If you use Snapchat, you can add me under the username: AnnWCharles. I'm going to try playing over there with some Snapchat Stories.  I will also be posting some photo stories over on Instagram.  My user name there is Ann_Charles.   I would love your feedback on my new adventures.

Wrap Up
I had a fun surprise recently when Southern Writer's Magazine interviewed me and included my picture on the cover of the January/February 2017 issue.
Some other exciting news is that A WILD FRIGHT IN DEADWOOD was awarded a Best of 2016 award from Suspense Magazine!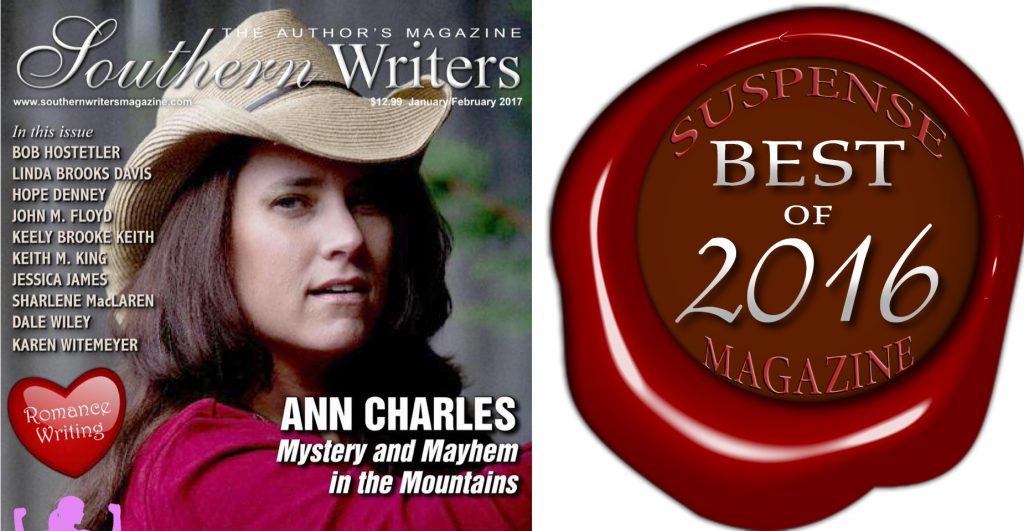 Woo hoo! What a great way to start 2017!!
Thank you for your support in 2016. I hope your new year is prosperous and full of plenty of laughter.
♥ Ann
P.S. To unsubscribe from this newsletter, please email me at reader@anncharles.com with UNSUBSCRIBE in the Subject line.